Here are some steps you can take to keep your cost down as well as help ensure a finished quilt that you will be pleased with.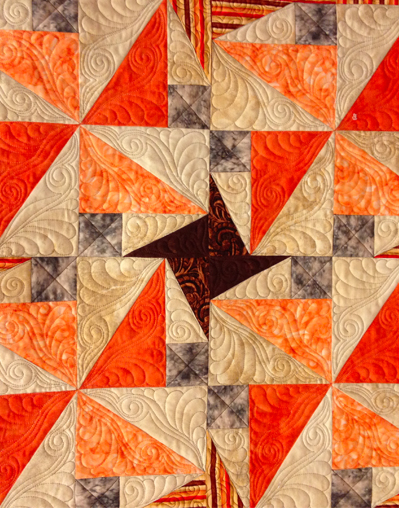 ~ Clip and remove all loose threads from front side of quilt top. Loose threads may get caught in the machine which could cause your quilt to tear. Also, dark threads will show through light colored fabrics when quilted so be sure to check the back of the quilt top to be sure to clip loose threads.
~ Press quilt top and backing completely so that all seams lay as flat as possible.
~Backing and batting should be at least 4 inches larger than the quilt top on all sides.
~ Mark top of quilt with a safety pin and make sure there are no other pins or needles in the quilt – there is no need to pin or baste anything together.
~Keep in mind that puckers and stretched areas cannot be completely quilted out; however, I will do my best to blend them as much as possible.
~If you have a pieced border or backing, for best results, stay stitch a scant 1/4″ around the edge of your quilt top. Any seams that are exposed on the outer edge, including border seams, can come undone during quilting if they are not stay-stitched. This will also prevent your quilt top from stretching.
~ Square your quilt back. Once you've sewn your quilt back, square up the sides with a long rotary cutting ruler so each edge is straight and perpendicular to the edge next to it. This is essential for proper loading of the quilt. Trim selvedges from the backing seam allowances. It is not necessary to trim selvedges from the outer edges of the back.
Batting Suggestions:
Warm and Natural
Warm and White
Quilter's Dream Select Poly
Quilter's Dream Select Cotton
Hobbs Heriloom Cotton Batting
As always, please call or email if you have any questions!